SuperHealing® Secrets Online Launch
Emails, Tweets & Social Media Posts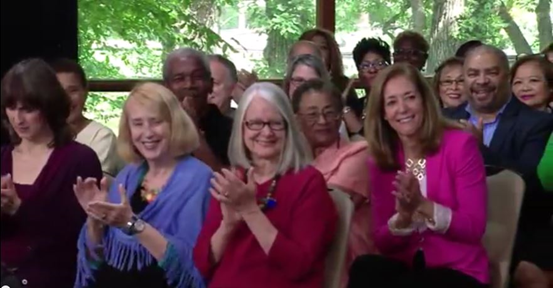 Greetings! Our promotional period starts on July 1st, and the launch begins July 11th!
This page has everything you need to share the interview series with your tribe.
Feel free to edit any content to your voice for your circle.
This page includes:
*Tweets
*Solo Email Options
*Social Media & Newsletter Posts
*Promotional Graphics/Banner Ads
Please do not forget to add your link to the emails where highlighted in bold font.
You can ad you affiliate ID number and insert it into this URL, in the place of the bold numbers:
http://www.1shoppingcart.com/app/?af=111111
Or you can login and get your referral url (and affiliate ID) that can be found in your account
There is a hypertext link function available in MS Word.  Click Insert
Then click Hyperlink.  In the "Text to display" in the box (add the copy (words) that are to the left of the add your hypertext link in the email, for example "Click here."
Add your link to Address box and click OK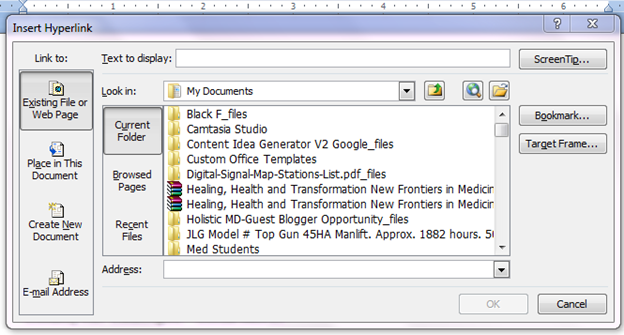 Solo Emails
(please feel free to edit as necessary to match your language/tribe)
Email #1 Send July 1-3
Subject Line:
HOW FAR WOULD YOU TRAVEL TO DISCOVER THE LIFE-CHANGING TRUTH ABOUT YOUR HEALTH?
Hi <First Name>
They came from across the US to attend a very special event, the opportunity to learn the empowering and inspiring truth about their unlimited health potential. And they were all thrilled that they came.
What would you do, How far would you travel for an incredible opportunity to discover a life-transforming, health-enhancing information… the life-changing truth about your health?
Would you travel hundreds, if not thousands of miles for a unique, life-altering opportunity?
I know a group of people who did!
They were privy to this special opportunity to discover the first-hand, life-altering, and evolutionary truths about their health, shared with them by a passionate pioneering holistic physician. Whose mission is to inspire and empower us to revitalize and elevate our health.
This presentation was filled with amazing secrets, startling facts, profound insights, absolutely brilliant information, and life-changing health generating truths that define her career for only 90 minutes.
She opened their minds and touched their hearts deeply, they were moved to let go of the limiting beliefs and fears about their health and well-being in a way they never knew was possible.
And they were amazed by what they learned . My dear friend, Elaine Ferguson, MD, a renowned pioneer in the field of holistic and integrative medicine, revealed to them - the remarkable truth about our unlimited true health potential, how your body, mind, and spirit have an limitless capacity to create, when you give your 50 trillion cells what they need to function with ease. The scope and depth of the information they received is very difficult to express.
Would you have done what they did, and made the effort to be a part of that very special and fortunate audience? Maybe you wish you'd also had the opportunity to be there.
After a successful run on PBS in the US, I'm happy to share this opportunity with you. For 10 days, July 11-20, you can watch SuperHealing® Secrets from the comfort of your home for free!
It reveals why the art and new science of vibrant health and radiant well-being is the future of medicine.
Click here to watch ADD YOUR AFFILIATE LINK
I promise this is a revelation and experience you simply don't want to miss. Dr. Elaine will inspire and elevate you to achieve a vibrant health and radiant well-being in a way you never imagined was possible.
SuperHealing® Secrets will liberate your false beliefs and notions about health. It will reveal:
• Why your family's medical history is irrelevant
• How chronic diseases can be reversed
• A key health-influencing factor that's more important that your diet and exercise regimen
• A powerful and easy way to slow down and reverse "aging" that's not in a bottle or food
• The vital nutrient you must have to experience optimal health
Click Here to WATCH ADD Your AFFILIATE Link
Here's what a few audience members had to say about SuperHealing® Secrets
"I travelled almost a thousand miles to hear Dr. Elaine's life-changing message. I'm more than thrilled… I am honored to be an audience member!" - Tim H, Charlotte, NC
"SuperHealing® Secrets is a message for the ages. Backed by science and ancient healing wisdom, Dr. Elaine passionately explains what, and how truly remarkable and amazing the body has capacity for vibrant health. We are not captives to our genes, or doctors. It simply tells the marvelous truth that we hold the keys to our health and well-being." - John G, Memphis, TN
"Thank you so much for inviting me, my daughter, and I had a wonderful time. I did find my time there amazing, informative, and I felt a sense of something much bigger happening. You are truly inspirational and I look forward to watching your movement take hold in the universe! I can feel the oneness and infinite possibilities emerging and it is all so very exciting!!!" - Linda P, Chicago, IL
"I recently watched SuperHealing® Secrets with 7 family members from three generations, from 8 to 80. They were all mesmerized by Dr. Elaine's message. Everyone listened intently, and no ever left the room. Her remarkable information and rich presentation was so engaging, and we were all very surprised that my 8 year old niece didn't move once during the entire program. She was spell bound! Wow! Look at this. You might want to consider SSH as a great babysitting device! " - Bruce B. New Orleans, LA
This isn't your typical marketing hype to the latest health craze. SuperHealing® Secrets is a call to health, and a heartfelt appeal to awaken you to the truth. Won't you join us and spread the word?
To your vibrant health,
YourName
P.S: You don't have to spend a dime to watch SuperHealing® Secrets and learn how to unlock your true health potential! Imagine discovering that your health is not ruled by your genes DNA or determined by your family's health history, and that you are capable of creating a high level of radiant health, and vibrant well-being, perhaps, far greater than you've ever imagined was possible. This is a program you simply don't want to miss. It will inform, uplift, and inspire you to create the good health you desire and deserve! Stop focusing and fearing disease, start activating your truth health potential and experience the vibrant health you were created to have right now!
Get Access Now! ADD YOUR AFFILIATE LINK
Tweets
Instructions: Add your affiliate referral link—shorten it first by going to bit.ly (or another link shortening app of your choice) and shortening it.
Is your health stuck in a rut? Watch #SuperhealingSecrets 7/11-20 Renew & revitalize your health and well-being! Insert Your Shortened Affiliate link
Posts for Social Media & Newsletters
Are you a SUPERHEALER? Are you ready for an amazing quantum leap and the next step in your health and well-being?
Superhealing® is the next step, a quantum leap of our evolving understanding of our magnificent body, remarkable mind and indomitable human spirit. It is holistic approach on steroids (pardon our pun). It potentiates because it focuses on engaging all of you, your body, mind and spirit, to help your 50 trillion cells unleash their true health potential.
It is the opportunity to understand and appreciate your body's magnificent ability to create health. It is a movement from.